This is my personal blog. The views expressed on these pages are mine alone and not those of my employer.
FT8 and IC9700
Setup
The basis for these instructions is this guide, but updated to reflect that the IC9700 is now directly supported by wsjtx and js8call.
Step one: connect a normal USB-A-B cable between the computer and the radio.
IC-9700 settings
Menu

Set

Connectors

MOD Input

USB Mod Level: 30% (default 50%)
DATA MOD: USB (default: ACC)
DATA OFF MOD: Leave as default (MIC, ACC)

CI-V

CI-V Baud Rate = 19200 (default: Auto)
CI-V address = keep default A2h
CI-V USB Baud Rate = Auto

When running, choose FIL1 (next to the mode in the top left)
wsjtx/js8call settings
Radio

Rig: Icom IC-9700
Baud rate: 115200
Data bits: 8
Stop bits: 1
Handshake: None
PTT method: CAT
Mode: Data/Pkt (USB also works, but will use DATA OFF MOD as audio, so that needs to be USB)
Serial port: /dev/ttyUSB0 (on my Linux machine at least)

Audio

Input: also_input.usb-Burr-Brown_from_TI_USB_Audio_CODEC-0.analog-stereo
Output: also_output.usb-Burr-Brown_from_TI_USB_Audio_CODEC-0.analog-stereo

Frequencies

Right click on the "Working frequencies" table and insert 144.174 and 432.065 for FT8. I'm not sure about the 70cm frequency, as I've not made contacts on it, and find conflicting information about the right frequency..
Glitches
I had the comms glitch for a bit, where wsjtx said frequency change commands were rejected. Unplugging/replugging and even restarting the radio didn't help, but changing mode out of USB-D did. I don't know if this was a one-off.
Performance
With a VX30 antenna on a first floor balcony I'm reaching surprisingly far: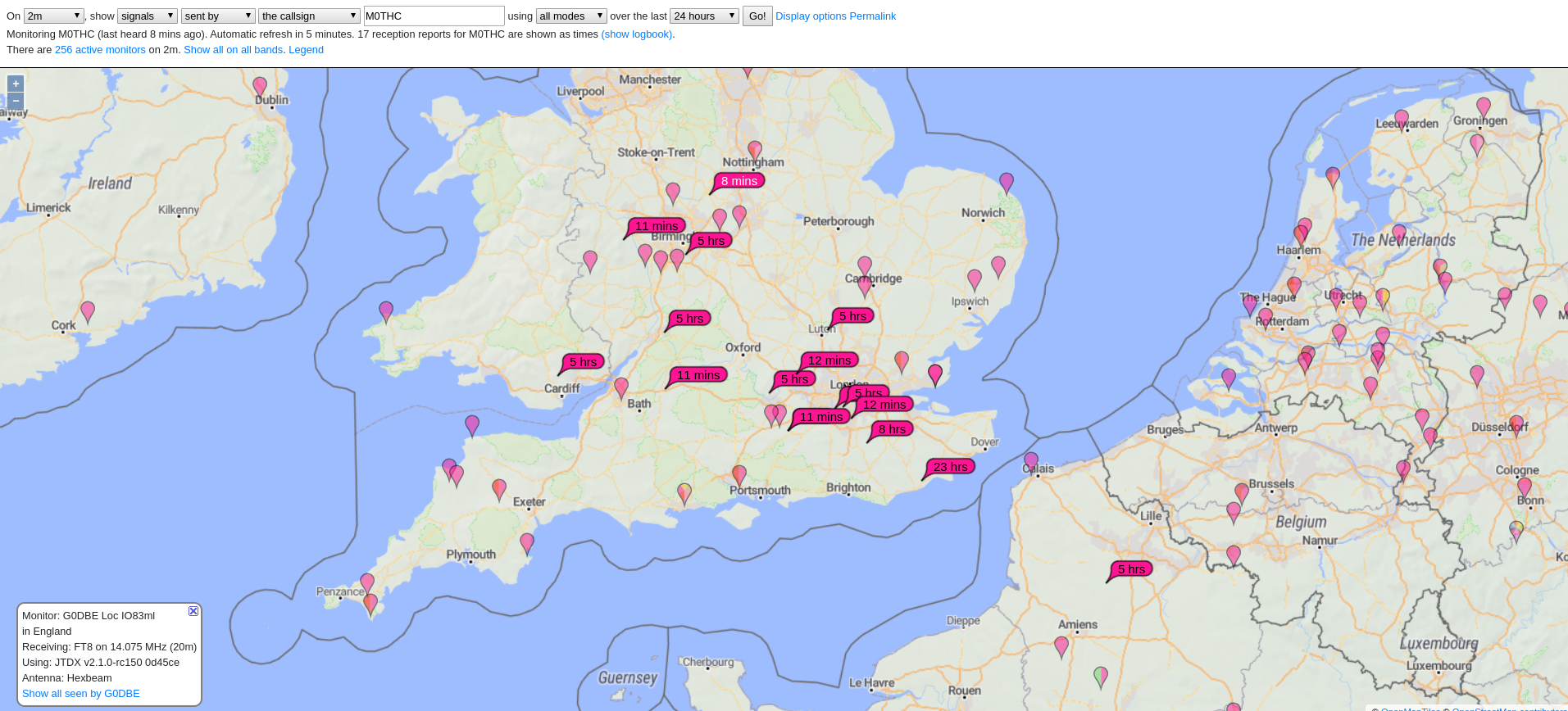 Other tests have seen spots all over south of England and Wales in various tests with power levels between 5w and 40W.
Sure, it's nothing like on HF bands on 10w from the same, but that's the nature of the bands: